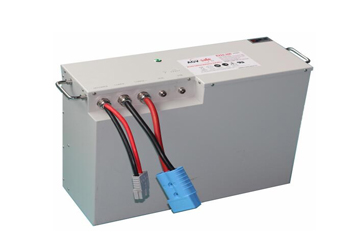 Introduction
Hawker AGV SAFE EV series of power battery, is the international advanced level of lithium iron phosphate (LiFePO4) power battery system. With high energy density, long cycle life, excellent charge and discharge performance, good temperature performance, is a new generation of high security and high reliability of the green power supply.
This series of batteries is the use of the latest development of the battery management system (BMS), specifically for mobile mechanical equipment, online charging and wireless charging and design and production of power batteries, with advanced battery self-management, communication, alarm and short-term fast charge Complete function.
Product Features
● Excellent charge and discharge overvoltage and undervoltage protection
● provide analog output AO, SOC analog output 0 ~ 5V, user-friendly power monitoring
Note: SOC can only be used as a reference, can not be used as a decision.
● Provides a highly efficient passive equalization system
● Charge / discharge are all with short circuit insurance
● Panel LED power, system status display
● Rich interface, through the digital IO and 485 interface to achieve information exchange
● professional industrial design and material selection, sustainable work in the harsh industrial environment
● support high-power charge and discharge, to meet the needs of a variety of different industrial conditions
● wide temperature working environment conditions, -20 degrees -60 degrees
● small size
Dimensions specifications
Types

Battery size

Long*wide*high(mm)

Charge continuous current

Discharge continuous current

EV24-40

315*237*165mm

80A

20A

EV24-60

315*240*215mm

320*237*188mm

460*220*150mm

120A

30A

EV24-80

355*330*215mm

160A

40A

EV24-100

355*330*215mm

200A

50A

EV24-120

400*275*245mm

180A

60A

EV24-200

550*210*425mm

200A

100A

EV48-30

345*238*200mm

60A

30A

EV48-60

590*240*240mm

120A

30A

EV48-80

585*345*230mm

160A

40A

EV48-100

585*345*230mm

200A

50A

EV48-160

605*435*255mm

160A

80A

EV48-200

615*650*250mm

160A

100A

EV48-250

605*290*480mm

200A

125A
Performance specifications
| | |
| --- | --- |
| project | Features |
| Overvoltage protection | 3.7V (single string) |
| Undervoltage protection | 2.8V (single string) |
| Charging parameters | Maximum 2C lasts for 10 minutes, 1C continues |
| Discharge parameters | Up to 1C continuous |
| Charge and discharge port form | Charge and discharge |
| fuse | Have |
| RS-485 communication | Have |
| Analog output AO | Have |
| Configurable DO output | Have |
| Power LED display | Have |
| Master switch | Have |
| Operating temperature | -20℃~60℃ |
| Storage temperature | -20℃~70℃ |
| Working humidity | Relative humidity of 10% to 80%, no condensation |
| cooling system | Passive natural cooling |
| Charger requirements | Lithium iron phosphate battery charger |
| Battery shell color | Toyota White (customizable) |
Product Image